CINEGEARS Pegasus Wireless Cablecam Kit – Rental Monthly
CINEGEARS Pegasus Wireless Cablecam Kit – Rental Monthly
IMPORTANT INFORMATION: (All PRICES ARE SUBJECT TO CHANGE WITHOUT NOTICE)
Equipment is rented in good working order. If found to be in nonoperative condition, please call immediately so that a trade can be arranged or we will expect equipment to have been acceptable and will charge accordingly. It is the renter's responsibility to check equipment at the time of rental to verify the acceptability of usage. If you are not an account customer, we require a Visa, Mastercard, American Express or Discover credit card for a security deposit.
Rental Agreement
Canadian Insurance Coverage
American Insurance Coverage
In order to avoid requiring a full deposit for cost of this product, we require an insurance certificate from one of our provided suppliers
Cinegears Wireless Programable Cablecam / Dollycar

-Pegasus,
smoothest in the sky, drive it on the fly!

---
Cine Gears inc. and Intervideo are coming together to help your reality become virtual.
The Cinegears Wireless Pegasus Cablecam Kit comes with everything you need to shoot professional-grade time-lapse shots, on one cable, double cables, or even the ground!
A revolutionary technology, this bidirectional unit is fully pre-programmable with the Cinegears Cable Cam controller, and features obtrusion sensors to prevent unwanted collisions.
The ultra-silent motor is not disruptive on set, and the double cable mode drastically increases stability and safety.
With an impressive payload, and a total unit weight of about 2 kg, this lightweight unit can traverse a 35° grade, and advanced motion-halting technology ensure that it stops precisely and accurately every time.
The Pegasus is compatible with DJI Ronin, MoVI, Letus, Helix, and all other major gimbals via the included universal dovetail, and the kit comes with REC triggers for all major professional film (e.g., Sony FS7, Blackmagic URSE, ARRI Alexa, Red Epic) and DSLR cameras (e.g., Canon 5D, Nikon D70, and Sony Alpha 99).
Comes with a laser-cut custom weatherproof carrying case.
Highlights
Lightweight 2kg body weight.
Travels on one cable, two cables, or on the ground in trolley mode.
Collision detection sensors.
Professional AB and V-mount battery locks.
Most accurate cable cam on the market.
Can traverse a 35° grade.
Extremely pre-programmable.
Built out of durable steel and aluminum alloy.
3 year warranty.
Specifications
Weight: 2 kg.
Load: 25 kg max.
Speed: 65 cm/sec max on cable; 100 cm/sec on ground.
Control Range: 1 km.
Grade: 35° max.
Cable Length: unlimited, depending on environment (stock cable is 20m).
Battery life: up to 24 hours.
Case: custom-fit waterproof hard case.
Built-in triggers for Sony FS7, Blackmagic URSA, ARRI Alexa, RED Epic, Canon 5D, Nikon D70, and Sony Alpha 99.
In the Box
Pegasus Cablecam body.
Wireless cablecam controller.
2 x Stability arms with ground balancing wheel.
2 x Balance extension arms.
4 x Ultra-friction rubber ground wheel.
4 x Ultra-friction rubber cable wheel.
8 x Ultra-friction rubber ground balancing-wheel.
V-lock battery mounting plate.
Universal mounting plate.
Start/stop trigger cables for Sony, Arri, and RED.
Heavy duty cable pulley.
2 x Dual lock cable mounting plate.
Ronin quick release bracket.
30 m flexible braided steel cable.
Custom waterproof/weatherproof hard case.
---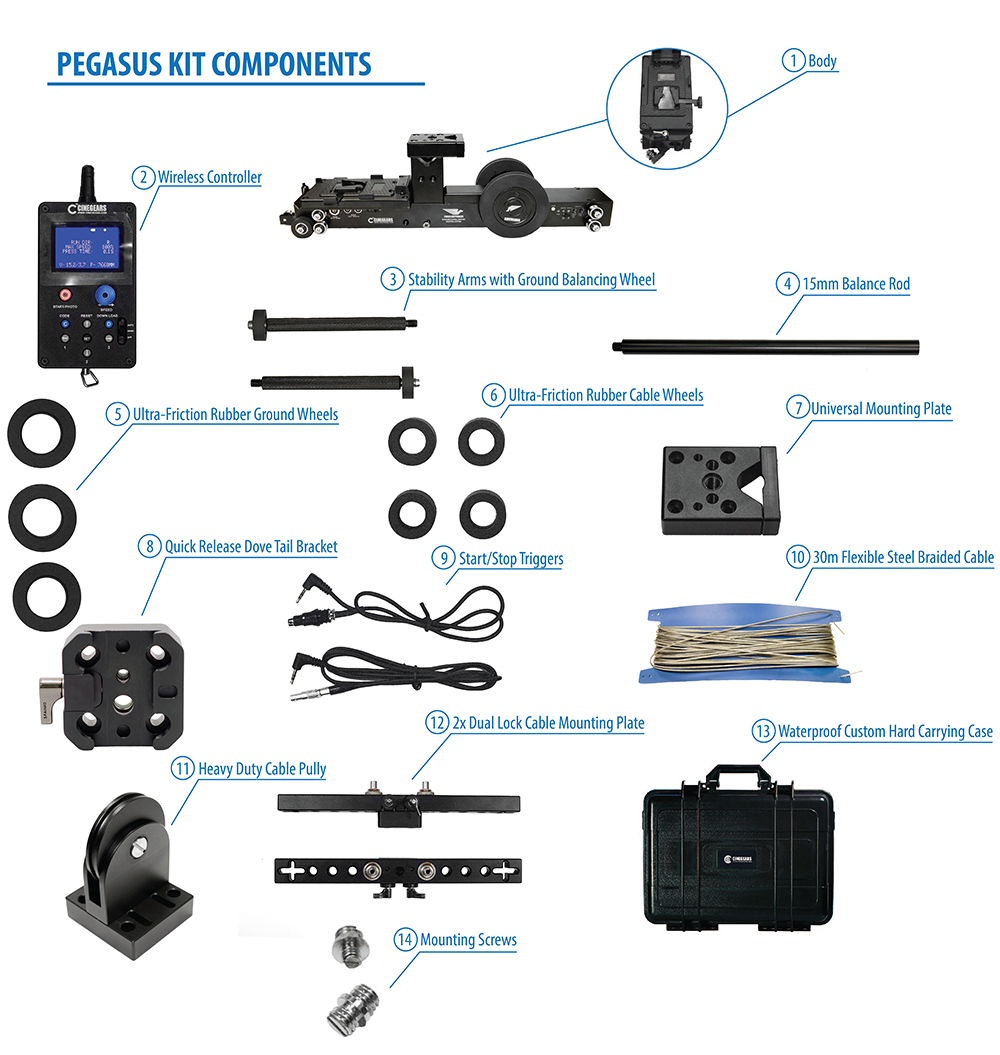 Pegasus Cable Cam and Dolly Car video